If you're into quality photography and you're a fan of Japan, then my new 4K desktop calendar is for you. Find out more about it here.
I've wanted to make a calendar for ages. Ironically, I've had 'make a calendar' scribbled on my year planner for ages. Paper and real, physical products are nice. But, with there still being issues sending packages to various countries from Japan. And with wanting to keep things simple, digital, I decided to make a set of twelve, 4K, high rez wallpapers for the computer instead.
Picking the images
One of the reasons I've held off making a calendar for so long is the issue of picking 12 images from my back catalogue. Wide choice is a nice problem to have, don't get me wrong. It's just that I'm prone to procrastination. The perils of being a creative Gemini…. nightmare. Something for another blog post, probably.
So, yes, how did I pick the shots for the calendar? Mainly, obviously. I thought it would be nice to choose a shot for each month that was actually shot IN that particular month. Obvious, simple. Makes sense.
Next big thing was finding images that had a good amount of negative space in them. Enough to make sure the calendar part of the calendar could actually be seen clearly. April was the biggest challenge. Most shots I have of sakura season tend to be quite busy, detailed images. The image I went with in the end also nicely sums up 'sakura in the city' and was shot at the little park and event space that now sits where the Sony building used to be, in Ginza.
So, what are all the photos and where did I shoot them?
Here's the promo image for the calendar, and I'll go through what each of the images is down below. Download the calendar here.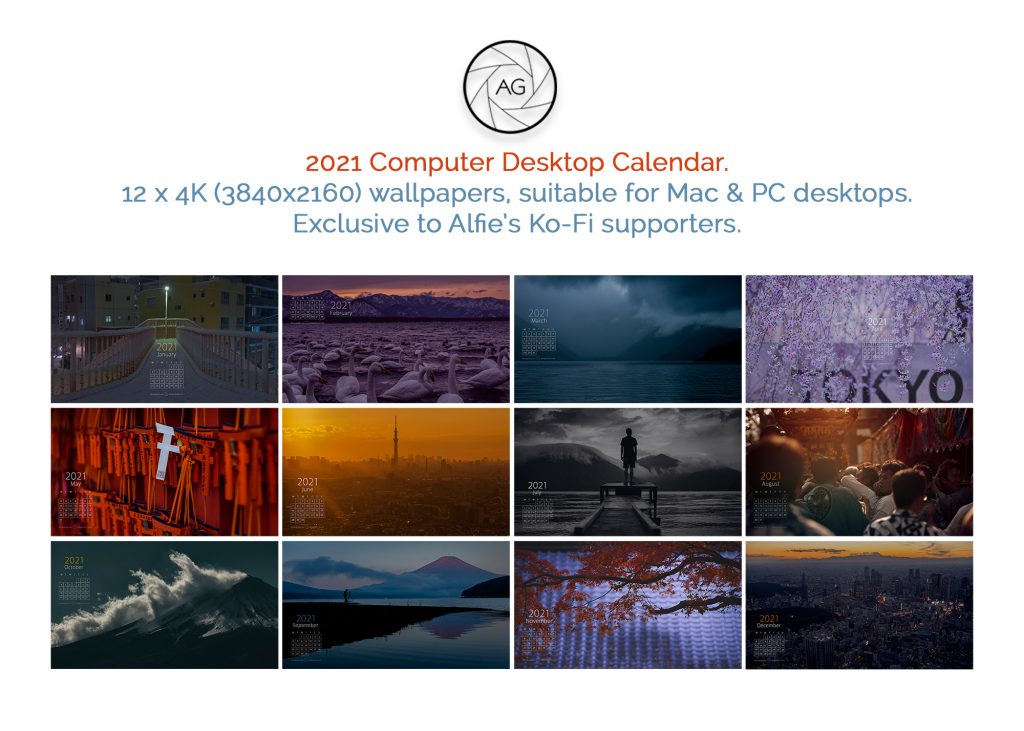 January: This one is special for me as, recently, the bridge has been partly dismantled by the local council. And will be completely removed in a few months' time. It's Sakurabashi in our neighbourhood of Minami-Oi 4-chome, Tokyo. The pic is from one night of big snowfall we had back in 2018. I've always loved the streetlamp on the bridge, the shape of the bridge, the colour. It's a great spot to shoot and to shoot down from. I'm sad it's gone. It's been here all of the 21 years I've known this neighbourhood. So, I'm pleased I shot the pic when Ii did and happy I can share it with you.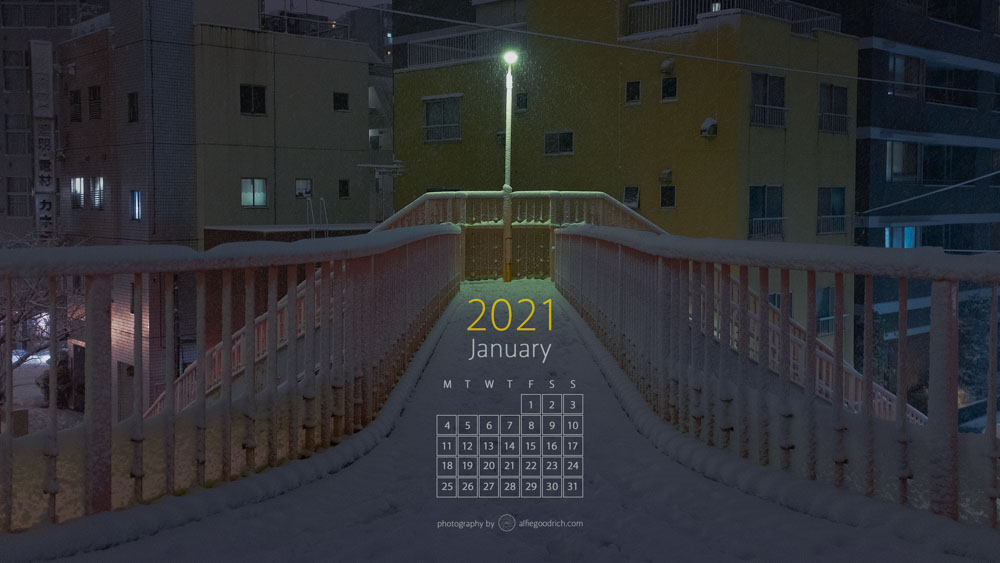 February: This is from a trip I did to Lake Kussharo, Hokkaido, in 2017. It's one of the few images in the calendar not shot in the month it says. This shot I made in December of 2017. But, February is super cold here in Japan and it fits the general climate vibe. Kussharo-ko is most famous for the migrating swans that come to bathe in the hot springs that flow into the lake. The day I was there, I was there for just ten minutes and had only five minutes to get this shot before the national parks staff and Japan Tourist Board people (my clients) whisked me off somewhere else. But, I'm pretty good at making the best use of the smallest amounts of time. It was an amazing sight. We all like a nice onsen. That day I learned that swans do, too.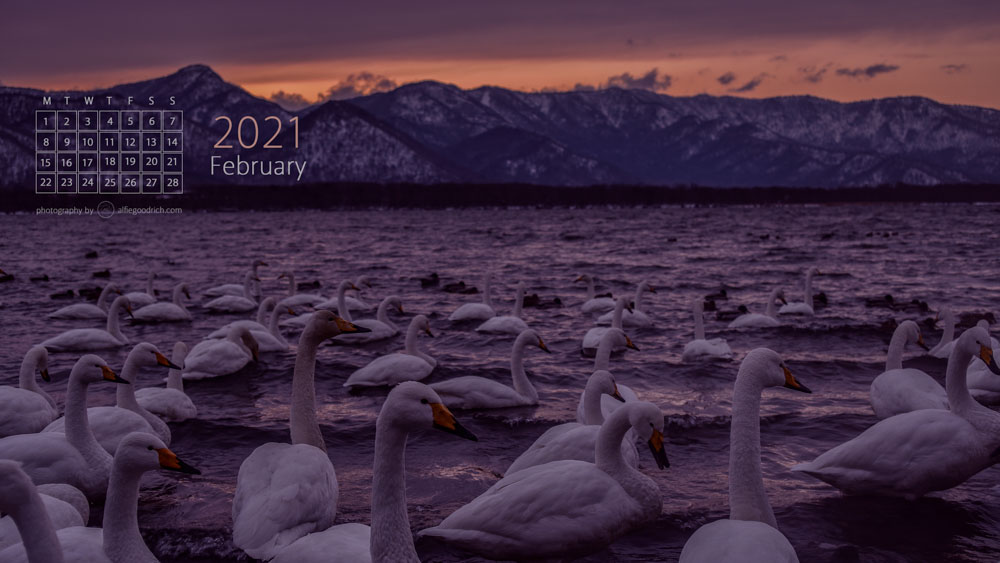 March: Lake Motosu is a favourite spot for me to go camping. In the summer, usually. But all year round it is the most awesome place to visit as the moods of weather and light change hugely by season. As anyone who knows the Fuji Five Lakes area, the weather can also change by the minute. So, when I'm touring around that area in the car, my camera is always at the ready. Motosu also features in my July image, where you can see my eldest son standing on the jetty at our favourite campsite. There are bigger lakes around Fuji. But Motosu is a fave. It's also most famous for being the lake which has the view of Fuji-san featured on the back of the 1000¥ banknote.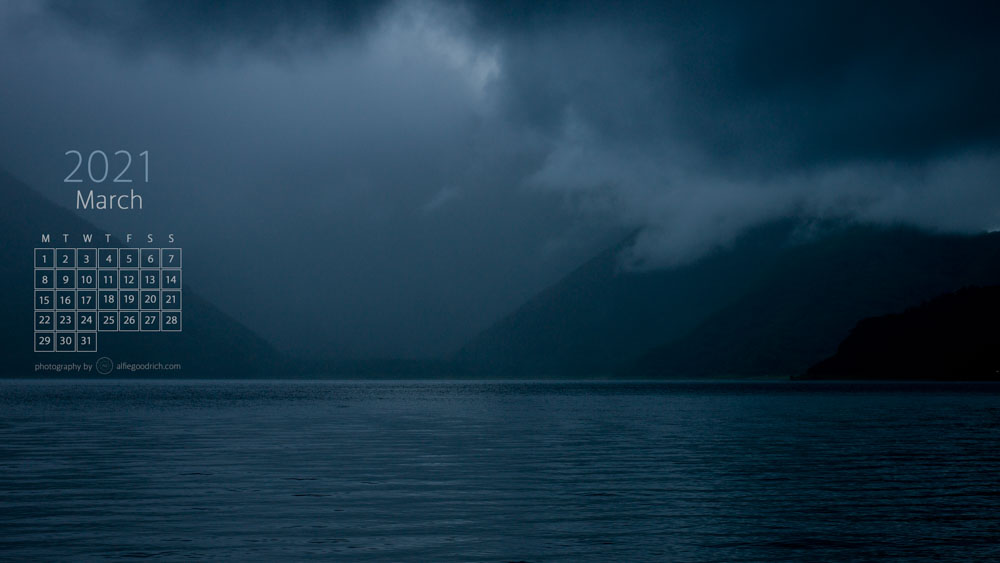 April: The spring display of cherry blossom in Japan is one of its seasonal high-points. I'm more of an autumn person myself but there's no escaping the fact that Japan is a stunning sight when in full bloom for sakura season. The photo featured for April was taken at the outdoor event space in Ginza, where Sony used to have their famous showrooms. There will, one day, be another Sony building on the site. But, for now, the space plays host to various installations and events. The word 'Tokyo' is pained on the inside of a staircase that leads down into the basement of the area. Blossom was hanging down in front and it made a perfect shot that shouted 'sakura' and 'Tokyo' in one frame.
May: By now, I've shot in Kyoto in every season. May is one of the last seasons before summer that I find bearable. High summer is truly brutal. Kyoto becomes an oven. And unless I have to be there for a job, it's a place I'll avoid in the middle of the summer. This shot was taken as part of an assignment for a Canadian travel magazine, back in 2015/16 and was shot in the lower shrine complex at Fushimi Inari. A place most famous for the red torii gates that wind up the hillside. I never arrange the world in front of me to create shots. The votive tablets (ema) at this shrine are shaped like torii gates. They're red on one side, plain wood on the other. The single ema that was showing its plain wood side provided a wonderful contrast and composition. Shot with my Hasselblad H4D-40, which has a CCD sensor that renders colour in a way very close to that of film.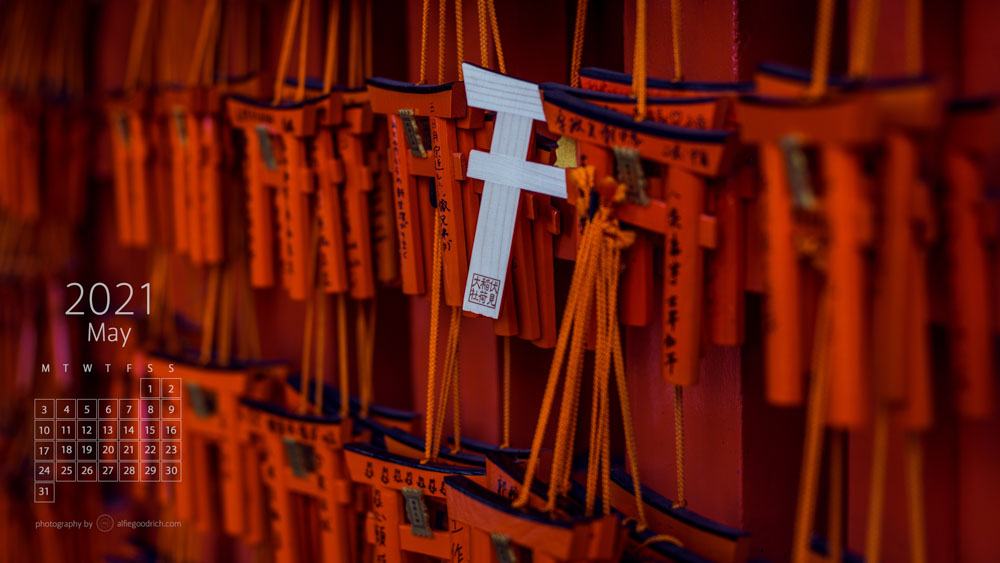 June: There are many great high viewpoints in Tokyo but one that I love, especially on a day when characterful skies are forecast, is from the iLink Tower in Ichikawa. Situated about 25mins on the Chuo-Sobu train line east of downtown Tokyo, the iLink tower is over 40 storeys high, has a free viewing deck and provides one of the best views back onto Tokyo and across to Mount Fuji behind. This shot doesn't show the mountain but I have many others shot there which do. The thing I love about this spot is the long drag of city that you get in front of the Sky Tree, which makes for a wonderful feeling of the density of the city. This is basically an east-west viewpoint, too. So sunsets are always dramatic. I'll often choose to take off the lens hood for shots like this, to get a bit of lensflare which I find adds that little bit of extra atmosphere in sunny shots.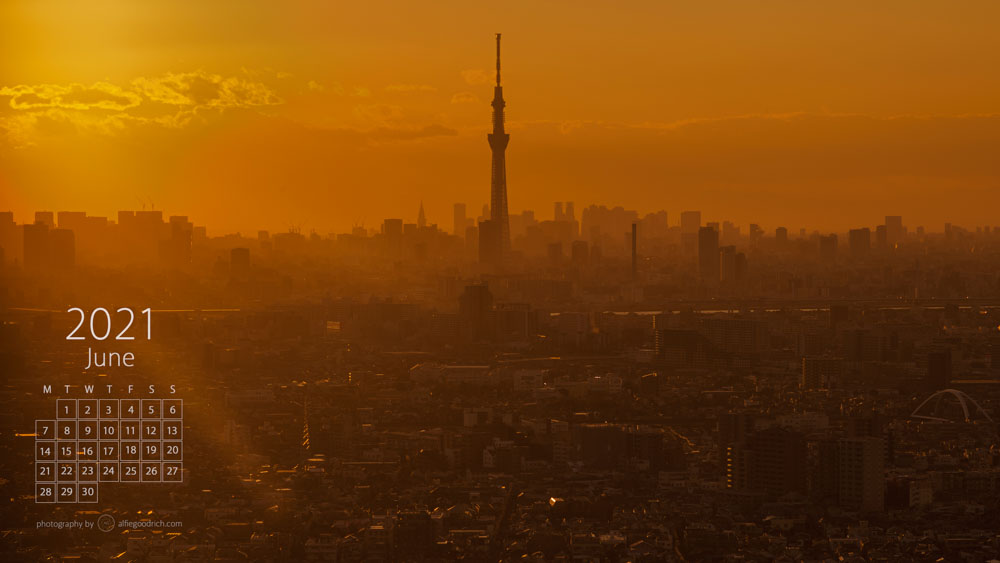 July: For this month, we're back to Lake Motosu and the little jetty at our favourite campsite there. There are a few campsites around the lake, including one with a wonderful view of Mount Fuji. But, for various reasons, we like this particular site. There are less rules, the owners are laid-back, the little pier gives the kids a place to jump into the water and all-in-all it just suits us more than the other places. Joe, who was about 15 in this shot, had been rowing on the lake with me earlier that day. The sky changed and suddenly the chance for a dramatic shot cropped up. He's always a willing partner to my work and these days comes out to assist on a few jobs. He doesn't necessarily shoot much himself but he's passionate about what I do and enjoys the process. This shot has been used for a record album cover and has been in a few magazines. Shot with a 35mm f/1.2 lens on my Nikon D800e.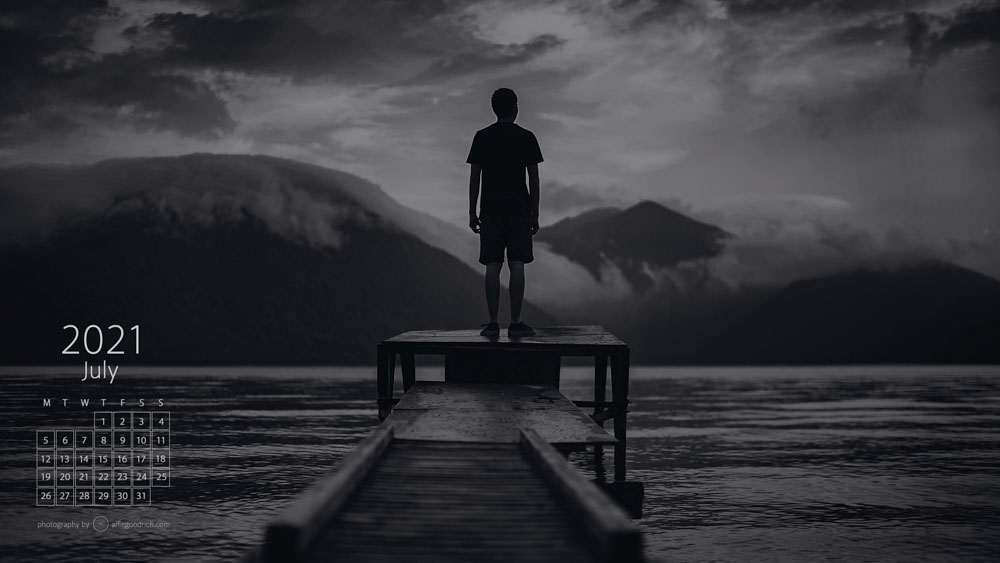 August: This end of the summer is festival season in Japan and the shot featured here is a special one, as it was in the August of 2011; the year of the 3/11 earthquake and tsunami. A year when so much changed here in Japan and in which so many people had endured loss. Festivals were low-key in many places that year but people wanted to celebrate being alive and wanted to remember loved ones who'd lost their lives. This was shot at a shrine and festival quite local to us, at Shinagawa Shrine on the main R15 road, which we also live on a few kilometres farther south. The shrine, for New Year, is famous for offering good luck for work, The summer festival is always a riot of colour and activity, not least for the fact that the portable shrine (seen in the background here) is carried up and down the shrine's steep flight of stairs. Gorgeous light that day. Shot on a Mamiya AFDii, ZD digital back and the classic Mamiya 80mm f/1.9 lens.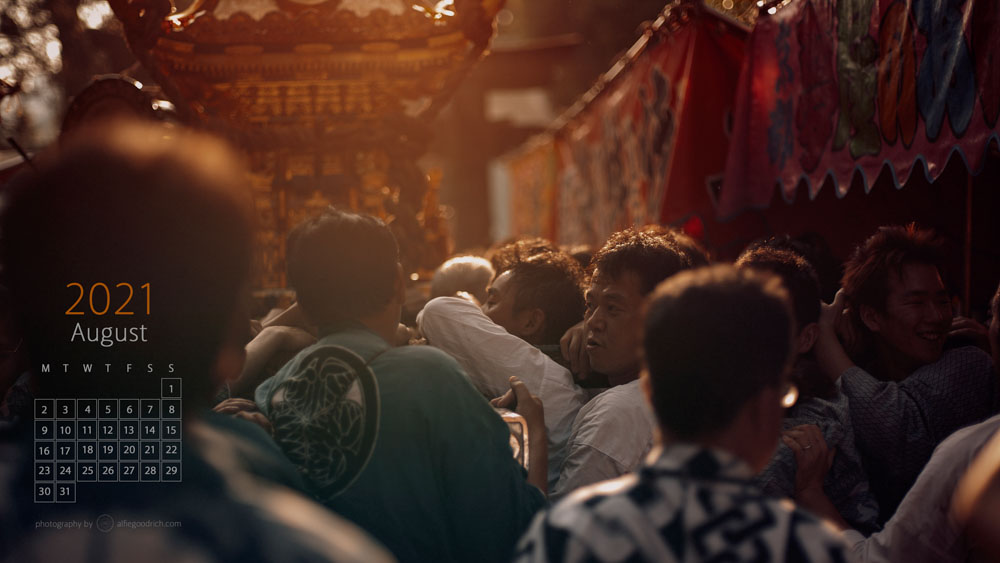 September: By now you may have noticed that I'd put October and September in the wrong order on the image above. Doh! Anyway, September's shot takes us to Mount Fuji and a phenomenon that I'd spent years trying to capture until 2019. 'Aka Fuji' or Red Fuji. This spot is one I've known for years, ever since first coming to Japan more than 20 years ago. I'd heard from various photographers and locals that if you got the perfect sunrise, from the little beach at the eastern end of Lake Yamanaka, you'd get 'Aka Fuji'. I'd been there at sunrise before but never on the right day. Everything just came together in September of last year, when I was location-hunting in the area for a large job for Mercedes-AMG. After having slept in the car overnight, I awoke to this scene. Truly breathtaking. Just a few other photographers were there, mostly old Japanese people, but I pretty much had the beach to myself. The great thing about this moment was that the deep fog had burned off by the first of the sun, revealing the far side of the lake. Where you can see one of the swan boats. Fuji's middle slopes and peak were gloriously bathed in red. Shot, suitably, in a Fuji X100S.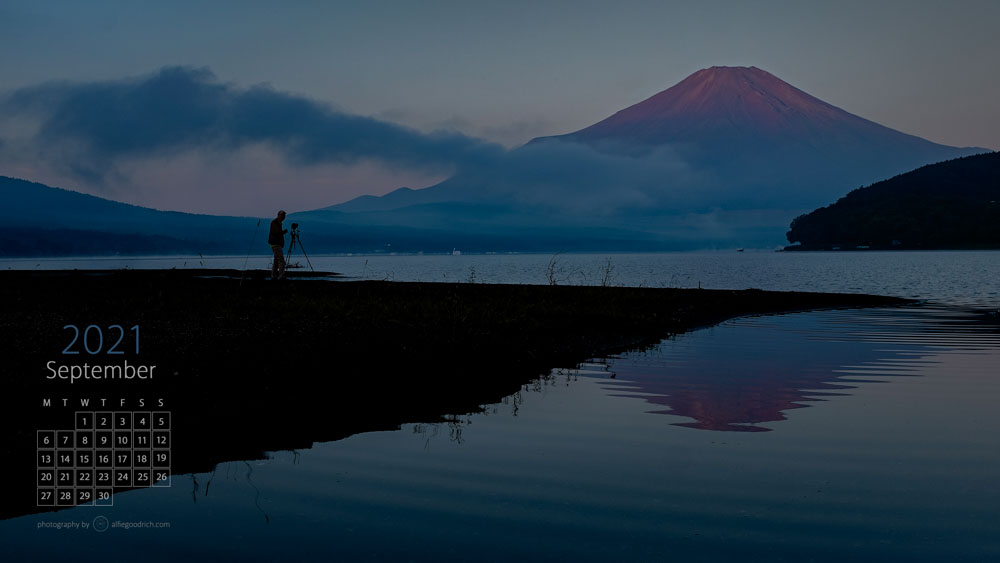 October: We stay at Mount Fuji for October's picture and one shot from Oiso, on the western shores of Lake Kawaguchi. This lake is far and away one of the most popular and whilst I do like it, it's not personally my favourite of the five lakes that border the mountain. However, the drive from Lakes Saiko and Shoji, into Kawaguchiko, is one I love in any season. In autumn it's bathed with reds from the momiji. Other times, it's dotted with cosmos flowers and susuki grass. From these shores you also get shots of Fuji with superb backlight. What we see going on in this shot, amplified by the wonderful clouds being whipped up by high winds near the summit. Shot with a 300mm f/4 prime lens on my Nikon D800e.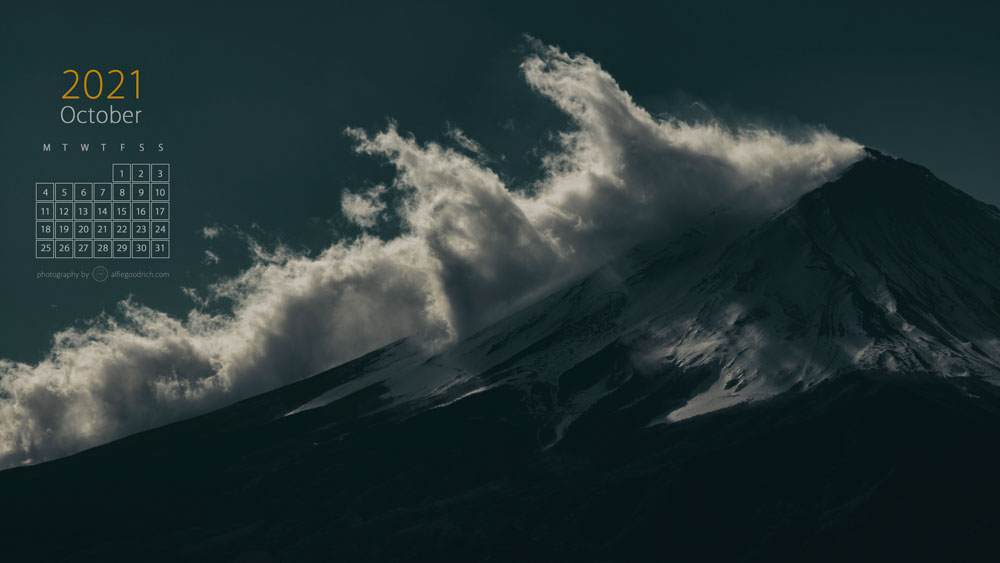 November: Back to Tokyo for November's shot and a spot just 30mins from our home, by a mix of walking and train: Todoroki Shrine. Most famous for its ravine or gorge, Todoroki is fairly central in Tokyo, bordering the eastern bank of the Tama River. The gorge is a wonderful wedge of nature that can easily make you feel like you're far away from the bustle of the city and which, in autumn especially, gives a wonderful display from the various species of trees indigenous to the area. At the top of the staircase that takes you out of the ravine sits the shrine. The momiji and gingko trees there are the highlight of the area for me. What I love about this angle is the regular lines of the shrine roof, with its cool blue tones, contrasting with the natural shapes of the tree and its red leaves. Nikon D800e with my wonderful 135mm f/2 DC lens.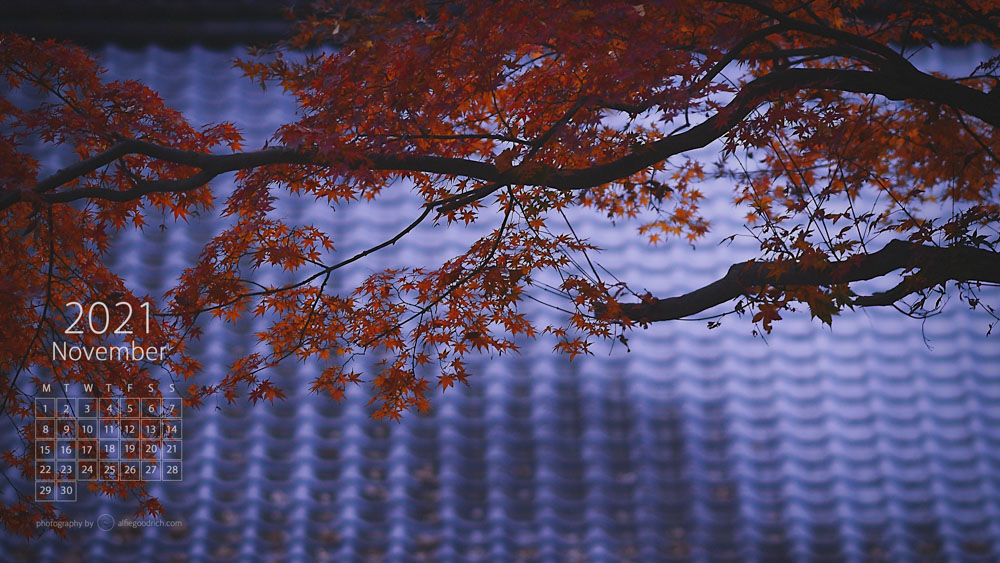 December: We finish the calendar with a shot that still makes me come up in goosebumps whenever I look at it. Shot from a helicopter, in December of 2015, it was made on a trip where everything conspired to create a truly unforgettable experience and resulting set of shots. Winter in Tokyo is always the best time to get views of Mount Fuji. The air is at its clearest, sunset is at around 4.30pm and the quality and colour of the light is, for me, perfect. Whenever I shoot from helicopters, I always ask if the doors can be removed. With the R44 heli, it's easy and the companies I fly with here are always very happy to oblige. The wind was fairly light on the day we flew. At 2000ft and 150knots, there's obviously a bit of a breeze so you need to wrap up warm. But it's all worth it. In this shot we were above Yotsuya area. You see Shinjuku Gyoen park on the left, with Yoyogi Park and Meiji Jingu behind. Middle-right of the shot, you see Shinjuku and all the skyscrapers, with the train line running north-south through Shin-Okubo. Mount Fuji sits resplendent in the distance. The vast city laid out before me, the last of the daylight punctuated by the twinkling lights of Tokyo switching on for night. Biggest thing to remember at moments like these is to stop shooting, just for a moment, and look. To enjoy the view myself.
Thanks for reading. I hope you find all of these accompanying notes for the calendar interesting. It's been fun to make. I hope you enjoy looking at the shots throughout your year. And, I am sure you'll all join me in wishing us all a far less chaotic and disruptive 2021. This year has been and remains a real challenge for many.
Be well. Be happy. Thanks for visiting and thanks for your continuing support.
Download the calendar here. It's just 1000¥ for all 12 high-rez, 4K shots.